For the hikers, a tent is an essential gear required to sleep at night and provides shelter from the weather. The Canvas Tents are comfortable and safe, and hence they can make you feel like a home away from home.
There are different types of tents available in the market, such as Dome Tents, Instant Tents, Waterproof Tents, and many more. But if you are looking for a tent that will last longer and be usable all season, you should buy a Canvas Tent.
Canvas Tents are designed for all weather conditions, and no doubt, it is an excellent choice for camping. All the companies manufacturing canvas tents claim their tent as best but is it so? Canvas Tents have so many designs, and they are generally strong and durable than any other type of tent.
Take a look at the reviews of canvas tents available in the market. So if you are also looking for a better tent, read the details of the canvas-type tents and choose one as per your requirement.
1. Kodiak Canvas 12×9 Canvas Cabin Tent – 2 to 4 Person
This Kodiak Canvas tent comprises a 100% cotton duck canvas, a hydra shield. The peak ceiling height of the Kodiak Canvas Tent is 7.5 feet, and steep walls allow you to walk and move comfortably inside the tent.
The tent features 5 Large windows with no-see-um mesh, which will keep the interior breathable and airy. The 1-inch steel tube poles with welded corner braces keep the tent standstill in different weather.
You can roll up the sidewalls of the Kodiak Canvas Tent for ventilation and openness.  The tent's floor is puncture-resistant, seamless, and heavy-duty, which will keep the water out. You can maintain privacy by rolling down the side walls.
The tent is included with poles, stakes, and storage bags. After using the tent, it can be placed into the zippered storage bag and carried from one place to another with ease.
Pros and Cons of Kodiak Canvas Tent
Pros
Excellent Ventilation
Side Rolling Walls
Limited lifetime warranty
KODIAK CANVAS 12x9 Canvas Cabin Tent, Tan, One...
Spacious 7.5 ft peak ceiling height and steep walls for stand-up...
Large D-shaped front door and side entry
Hydra-Shield 100% cotton duck canvas
Sturdy frame reinforced with welded corner braces
5 Large windows with no-see-um mesh
2. Oztent 30 Second Expedition Tent – 5 to 6 Person
With a dimension of 102L x 102W x 74H inches, this is the tent for 5 to 6 person. It requires only 1 person to install the tent in about 30 seconds.  
The Oztent 30-second expedition tent is made of waterproof, 8-oz. rip-stop polyester and cotton canvas, which will not allow the water to enter inside the tent. The heat-sealed PVC floor will prevent the heating of the tent's base.
The insect-proof mesh windows will not allow the bugs to enter inside the tent. You can utilize the 78-inches awning space for the drink or enjoy the sunlight. The tent's stand-up height is 6.2 inches, making it comfortable to move inside the tent.
The tent includes poles, pegs, ropes, and a carry bag. After camping, you can keep the tent inside the carry bag and transport it easily to the desired location.
Pros and Cons of Oztent 30 Seconds Expedition Tent
Pros
Waterproof Tent
78-inches awning space
Very sturdy construction
Cons
Expensive and Heavy Weight
Oztent 30 Second Expedition 5-6 Person Tent (50...
Internal frame designed for quick set up & take down
double stiched & heat taped seams, attached guy ropes with...
6.6 ft attached awning
PVC bathtub style floor
Material is a Poly Ripstop Canvas Blend & 100% waterproof...
3. Alpha Kilo 4000 Canvas Tent – 

6 Person
The material used for manufacturing this tent is the world's best military-grade, rip-stop, waterproof, fire retardant, and UV-protected Canvas. The setup and packing time of this tent is less than 30 seconds.
TheThentent's frame is made up of spring steel, and it is powder-coated, which makes it robust and stronger and can withstand 100 mph wind. The ceiling height is 7 feet, enabling you to make free movement inside this Alpha Kilo 4000 canvas tent. 
The tent is suitable for heavy snow accumulations, winter mountaineering and can withstand heavy winds. Large front awning and awnings on each side provide shade all around and cover entry to the tent.
An electric access socket pocket is available to use the electrical devices. It is made up of waterproof material and a fire retardant. This canvas tent floor is robust PVC flood-proof, and the double roof is available for extra ventilation. This is one of those amazing canvas tents for camping.
Pros and Cons of Alpha Kilo 4000 Canvas Tent
Pros
Decent Ventilation
Electric access socket pocket available
Very sturdy construction
Alpha Kilo 4000 Canvas 6 Person Bow Tent, Camping...
Fabric: Extremely durable military-grade 320 gsm canvas, ripstop,...
High quality features: Built in PVC flooring with flood walls...
Construction: Taped seams to ensure waterproof integrity. Powder...
Spacious size: 6 person capacity, tall enough for 6 foot person...
Specs: Open size 10 feet x 10 feet x 7 feet high. Packed size 50...
4. DANCHEL Cotton Bell Tent with Two Stove Jacket – 4 Person
This canvas Tent features two stove jackets wherein one stove jacket is on the wall, another is on the Top, and the stove jacket has a 3.9-inch diameter.
You will get freedom from rolling up the tent walls in this tent. It has a zip-in/ zip-out groundsheet that will provide maximum ventilation. 4 air vents with mosquito netting at the top keep the interior breathable and do not allow entry of the bugs, mosquitos, etc.
The tent is made up of 100% cotton canvas fabric, and it is waterproof. Hence in the rainy season, you will stay dry inside the tent. If there are 4 people, then you can place 2 stoves easily. But if you are not carrying stoves, then the tent is spacious enough for 5 to 6 persons.
This tent's frames and central poles are made up of steel and are strong. The doorway has extra zips to allow the doorway section to lay flat when the rest of the groundsheet is zipped in.
Pros and Cons of Danchel Cotton Bell Tent
Pros
Two stove jackets available
 Excellent Ventilation
Waterproof Tent
Cons
Single room design and storage pockets are not available
5. Kodiak Canvas Flex-Bow VX Waterproof Quick Tent – 6 Person
The dimension of this Tent is 10 x 10 feet, which can fit 6 persons easily. The tent's height is 78 inches; hence, the movement inside the tent is not a problem.
The tent has a window in the front and back, plus two triangular windows on the sides, making the interior ventilated and breathable. There are two doors of the layer type so that you have mesh and canvas panels.
The tarp is 10 x 10 feet, and it fits the ground dimension. The tarp is made up of heavy polyethylene and reinforced with mesh, which adds an extra layer of protection for you as well as for the tent's floor.
The frame poles are made up of steel, having a diameter of 1 inch. The canvas used in the tent is Heavier and stronger, and it is the Hydra-Shield canvas with superb water repellency while remaining breathable.
Pros and Cons of Kodiak Canvas Flex-Bow Tent
Pros
All-season tent
Decent Ventilation
Tarps for extra protection
Cons
Single room design, expensive and bulky
Kodiak Canvas Flex-Bow Canvas Tent Deluxe 10 ft x...
Made with Hydra-Shield, 100% cotton duck canvas that is durable,...
Spacious 6'6" ceiling height provides walk-around comfort
Two large D-shaped doors (front and back) with #10 YKK zippers
Four large windows with no-see-um mesh
Flex-Bow Frame: Exceptionally sturdy. Keeps tent taut. Quick and...
6. Crua Loj Thermo Insulated Waterproof Family Tent – 6 Person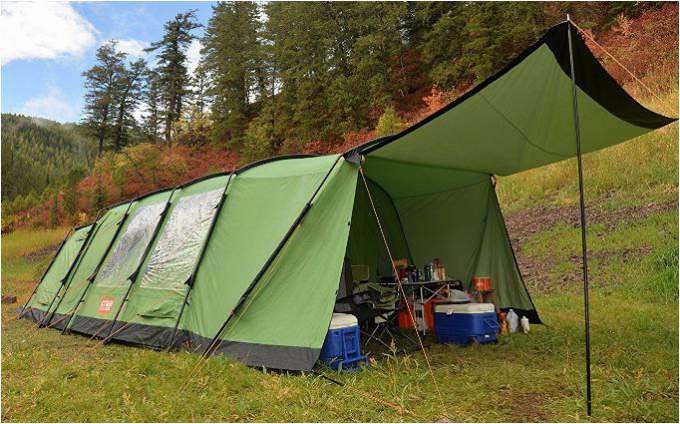 The Crua Loj Family Tent is, in fact, one of the top-notch canvas tents for camping that comes with high tensile steel poles, which will keep the tent standstill. The patented TT Insulation layer will keep you cooler in the summer and warmer in cold weather.
The insulation also does not allow much light to enter inside the tent and provides significant noise dampening. It is a two-bedroom tent; hence privacy is not an issue here.
The Waterproof 7000mm HH, Puncture, and Tear-resistant 80/20 Polycotton fabric prevent the water from entering inside the tent.
The tent's measurement is 13 ft wide x 7.25ft long x 6.9ft tall, spacious for 6 people sleeping, and it can fit 2 queen-sized mattresses. This Canvas tent has been tested in all weather conditions like torrential rain, frigid snow, desert heat, and 60MPH winds, and it won the battle.
This is a 4 season tent. The covered porch space (13ft wide x 5 ft long) is wheelchair accessible—300 sq. ft of total floor space.
Pros and Cons of Crua Loj Waterproof Family Tent
Pros
Very much spacious and comfortable
Big in size but the easy setup process
4 season tent
Crua Loj - 6 + Person Insulated Family Tent with...
[Ultimate 6 Person Camping Tent] The Crua Loj has an Extendable...
[Insulated Rooms within Tent] The Crua Loj has 2 Insulated Rooms...
[Superior Tent Materials] The Loj is made out of Poly-cotton...
[Built for Extreme Weather] The Crua Loj was built for the most...
[Features of the Crua Loj] 1 Large Bedroom which can be zipped...
7. White Duck Outdoors Alpha Wall Tent – 10 Person
White Duck Outdoor Alpha Wall Tent comprises 100% cotton 10.10 "Oz Army Duck Canvas" which is water repellent, mildew & UV resistant. You are not required to buy Aluminum Frame, Rafter Angle Kit/Couplers, and Floating PVC floor as it is included with the tent.
Apart from these, it also includes a Durable 3-layer storm, 5" Stove Jack with flap, Standard Zippered Door with buckled weather flap, large triangular distinctive windows, Mud Skirting around tent base, Stakes, Ropes, Metal Runners/Rope Tension Adjusters, and Tool Kit, waterproof tent bag.
The tent has a standard bug no-see-um mesh door for added protection and features YKK zippers that are military-grade zippers for maximum functionality. There are durable 3-layer large triangular distinctive windows with flaps and a durable Velcro fastening system, which will let the natural light come inside the tent.
The metal brackets of high-quality powder-coated and lightweight anodized aluminum robust poles will be required to set up the tent. After camping, you can keep the tent inside the waterproof tent bag and carry it to the next destination.
It comes with a 2-year workmanship warranty, so you need not worry about the damages until the warranty period.
Pros and Cons of White Duck Outdoor Alpha Wall Tent
Pros
Best for all season
Durable floor material
Decent ventilation
Cons
Single room design
no storage pockets available and not sewn in the floor
WHITEDUCK Alpha Canvas Wall Tent Waterproof 4...
STANDARD FEATURES: Canvas Alpha Wall Tent includes the complete...
MULTI-FUNCTIONAL FEATURES: Our camping tents include military...
INTERIOR FEATURES: Our 4 season camping tents are spacious enough...
GROUNDSHEET & SOD CLOTH: The wall skirting and free-floating...
SETUP: Requires two or three people to pitch the tent. Include...
8. Jet Tent F25dx Camping Tent – 10 Person
This Jet Tent F25dx Canvas tent comprises 100% waterproof ripstop grey polycotton canvas material; hence it will not allow the water to enter inside the tent. It takes very little time to install JET Canvas Camping Tent because of its Auto-lock and release frame.
The tent's dimension is 23 x 8.2 ft (700 x 250 cm), so 10 people can fit inside the tent easily. The Awning area available in the tent is 54 ft² (5 m²).
Two massive vents available on the ceiling in the central room make the tent's interior ventilated and airy. So ventilation is not an issue in this tent.
The tent can be divided into three separate rooms, and the structure has seven windows; you will feel at home inside this tent. The floor is a heavy-duty waterproof, bath-tub style, and freeze-resistant PVC material, so this should be waterproof—no wonder why we have included this into our list of amazing canvas tents for camping.
Pros and Cons of Jet Camping Tent
Pros
Tall in structure
Excellent Ventilation
Good Awning Space
9. Springbar Highline Canvas Tent – 8 Person
This Springbar Highline Canvas tent has 140 square feet of living space with a 6.5-foot comfortable standing height, making it easy to move inside and outside the tent.
The tent standstill in the high-speed wind and any weather because of 12-inch steel nail stakes, Heavy-duty galvanized steel poles,  and steel wire stake loops. It is made up of 100% cotton duck canvas finished, which is waterproof and mold resistant. The floor is also waterproof as it comprises heavy-duty vinyl material.
This is among the best canvas tents because of the easy and simple setup. The Springbar Highline Canvas Tent comes with a lifetime warranty covering the manufacturing defect.
Two front doors have a mesh window in them and a huge mesh window next to them, so the tent has excellent ventilation with so many openings, and you can adjust the flaps to manage the amount of light inside the tent.
Pros and Cons of Springbar Highline Canvas Tent
Pros
Strong and Sturdy Construction
Lifetime warranty
Good Ventilation
Sale
Springbar Highline Canvas Water-Tight Cotton...
100% COTTON DUCK CANVAS finished to be watertight in the rain and...
EASY AND SIMPLE SET UP is one of many reasons Springbar Tents...
LEGENDARY STRENGTH AND DURABILITY in heavy wind and rain
6.5 FOOT COMFORTABLE STANDING HEIGHT, spacious interior living...
JACK KIRKHAM'S ORIGINAL Springbar Tent design since 1961;...
10. Kodiak Flex-Bow Basic 10 x 10 Tent – 6 Person
This Kodiak Flex-Bow basic Canvas tent ceiling material is made up of 10 oz. Hydra-Shield duck cotton canvas, wall material is made up of 8.5 oz. Hydra-Shield duck cotton canvas and the floor material are made up of 16 oz.
Vinyl reinforced with Polyester. This is an amazing canvas tent for family camping, trip, or picnic as it is 100% waterproof and will keep you dry in the rainy season.
The space inside the room is 10'L x 10'W x 6'6" H, which is good for 6 people and to stand up straight & walk. The one-sided screen panel is available at both the front and rear of the tent and opposite side solid door. With built-in 72" x 78" awning space, you can take the view of nature and enjoy your drink. 
The major differences between the Basic Kodiak Flex-Box 6 Person Canvas Tent and the Deluxe model are the roof vents in the upper corners and the two additional windows.
Pros and Cons of Kodiak Flex-Bow Basic Tent
Pros
All-Weather Tent
Breathable Material
Sturdy and Strong Construction
Cons
The Mesh layer is not available at the door.
11. TETON Sports Sierra 16 Canvas Tent – 8 to 12 Person
The bell tent design and two pole assembly make installing the Teton Sports Sierra Canvas Tent easy. The stakes are made up of carbon, which due to which this canvas tent can drive through the roughest camping terrain.
The material used in the manufacturing is waterproof and breathable, which will give you good airflow and protect you from rainwater—19 oz. Heavy-Duty Leak Proof Welded Floor is barefoot, safe, and durable.
It is a 16'x16' tent which is 201 square feet with an extra-wide door and windows so the sunlight will easily reach inside. This is a durable, strong, stable, large, and comfortable tent that will make you feel like a home away from home. This is a 2-in-1 TENT OR CANOPY and is good for family reunions, festivals, weddings, camping, and anytime you need.
Pros and

Cons

of Teton Sports Sierra 16 Canvas Tent
Pros
Large doors and windows for decent ventilation
2-in-1 Product
Breathable and Waterproof material
Cons
No storage pocket and single room design
TETON Sports Sierra 16 Canvas Tent; Waterproof...
EASIER SET UP: Bell tent sets up easily with two pole assembly;...
WATERPROOF AND BREATHABLE: Strong treated cotton canvas fibers...
HOME AWAY FROM HOME: Comfortable all-season tent with extra-wide...
2-IN-1 TENT OR CANOPY: Protection from the elements as a tent or...
TETON SPORTS PROMISE: Reach out to our AMAZING product support...
12. White Duck Outdoors Premium Canvas Bell Tent – 8 Person
This White Duck Outdoors Canvas Bell Tent tent comes with a total of seven windows, and four windows are of the 3-layer feature; clear PVC screen, heavy-duty vinyl No-See-Um mesh to keep mosquitoes out, and canvas flap.
The other three windows (with no mesh) are used to attach a sleeping pad for additional capacity. It has only one thick central 1.1/4 inches galvanized steel pole, and a 1 inch galvanized steel frame for the vast door.
The breathable material has been used to manufacture this canvas tent, and the availability of so many mesh windows makes the inside fresh & airy. There are four pockets on the wall so that you can keep the camping essentials off the floor.
It is an all-season tent because, in a warmer climate, the breathable material creates a much cooler atmosphere. In the cold climate, the canvas has better insulation properties, which keep the inside atmosphere warm.
Pros and Cons of White Duck Outdoor Premium Canvas Tent
Pros
Breathable and Waterproof fabric
Three-layer window
All-season tent
13. Trek Tents 246C Cotton Canvas Tent – 9 to 10 Person
The walls and roof of the 246C Cotton Canvas Tent are made up of 100% cotton. The Trek Cotton Canvas Cabin Tent dimension is 168 x 120 x 90 inches, which is sufficient for 9 people.
Trek Tents 246C Cotton Canvas Cabin Tent
100% cotton walls and roof
Heavy duty vinyl-coated canvas floor for long wear
Three extra large screen windows with inside zip storm flaps
Wide front screen door with zip rain flaps
1" diameter powder coated steel farm
14. Dream House

Luxury

Canvas Tent
This canvas tent from Dream House is no less than a luxury in itself. Intricately crafted using 3000mm waterproof PU coating, this canvas tent is waterproof and durable to keep water out of your living area. Dream House Luxury Canvas Tent is a 4-seasoned tent, and no matter what, you are camping in the hot rays of the sun or the chilling breeze of winter; this camping tent is sure to keep you comfortable and cozy during winter.
The tent also features a stove hole so that you keep warm on those chilling nights of winter. There are windows and doors to draw the cool air inside the tent, and the mesh design prevents insects from entering your living room. This canvas tent is resistant to the howling winds so that you stay protected. Apart from that, this tent is quite portable and easy to carry on camping trips. Take a look at the pros and cons of this tent:
Pros & Cons Of Dream House Luxury Canvas Tent
Pros
Easy setup
Enormous space.
Durable, tough and sturdy design
Cons
Quite heavy and bulky.
The stakes are fragile.
Dream House Diameter 4m Outdoor Luxury Cotton...
Size: Diameter 4 meter i.e. 13.1ft
Cover material: 0.63 lbs/10ft2 (285g/sqm) beige cotton canvas...
Center pole material: diameter 1.5in (38mm) x thickness 2/25in...
Door pole material: diameter 3/4in (19mm) x thickness 1/25in...
Please note to place the chimney hole on the sloping roof may...
How To Choose The Right Canvas Tent – Buying Guide
There is an overwhelming presence of a canvas tent in the market and finding the right one is a daunting task. You will need to consider plenty of things while you are going to buy a new tent. Whether you are buying a tent for a small family or a large family camping trip, you will have to consider everything. From the size of the tent to storage to features, different things can impact your decision. A camping tent is designed to offer you every bit of comfort, and you should keep that thing in mind. Below, we have listed down some key considerations that you must consider before buying a new tent:
Size – The size of a camping tent is significant, and you must not skimp on that as well. It is important to consider how many people will sleep with you? Depending upon that, you can take your pick. You also need to make sure that a camping tent should be able to keep your gears safe and protected. Make sure to consider the dimensions of these tents since they come in different lengths, widths, and center heights. Some of the canvas tents have ample headroom so that you can move freely inside the tent. Each tent comes with estimated measurements, and the manufacturers also tell you about how many people it can accommodate? Depending upon these things, you can take your pick.
Stability – The stability of a canvas tent is essential to consider. You want to make sure that the tent is stable and is resistive against the natural elements. There are times when the howling wind becomes challenged, and the rain's torrents do not stop. You will want a stable tent during those times and keep you protected. Well, you don't have to worry if you have set up the tent properly. Most of the tents are stable and are resistant to wind and water. In the case of snowfall, your canvas tent will have a different tale to tell, and it can collapse if it is snowing heavily. Make sure to buy a stable tent.
Durable – Since buying a tent is a hefty investment, you want your tent to last for years. Make sure that the tent you are buying is designed using high-quality fabric. Many factors can affect the tent's durability, and it includes where you are taking your tent for camping, how you are planning to use it, and how often you embark on these camping trips. Since canvas tents are designed sturdily and are durable, you still need to pay heed to their usage. It can last long if you take care of your tent and keep it clean after using it.
Water Resistance – Weather can ruin your camping trip if you don't have a camping tent that is water-repelling. There are times when it will rain heavily, and the water can peep into your living area if the fabric is not water-repelling. You don't want to wake up at night or anytime to see water flowing everywhere. The canvas tents are designed in a way that makes them waterproof. Luckily, Today's best canvas tents are engineered to withstand water and the heaviest rainfall so that you don't have to worry about the same. Most of the tents come with a rainfly, which is water protected, and the tents are fully seamed not to let water enter your area.
Customer's FAQ
Check out the customer's FAQ for better insight into the canvas tent, how well they sail through different weathers, and how you can take care of these tents for their longevity.
What Size of Tent Should I go with?
The answer to this question depends upon the number of people accompanying you. If you are going out on a camping trip with more than 4 people, the larger tents should be your choice. The way they are designed and constructed will surely cater to your every need well. The large tent will offer excellent ventilation along with a good view.
How To Maintain The Quality Of Canvas Tents?
The way you treat the tent will impact the quality of the tent. Taking care of your tent will ensure the durability of the tent. When you expose the tents to different locations, the environmental factor plays an important role and has a greater impact on the tent's quality. The only treatment is to clean the tent almost daily and use a soft brush to keep dust and other particles at bay.
How To Take Care Of Zippers?
Sometimes, if you are not careful about doing it, zippers might give you trouble. You have to be a bit mindful when you zip doors. Tips to avoid issues with zippers:
Make sure that you have closed all the zippers before setting up your tent.
Handle zippers with utmost care.
How Do I Pitch This Tent?
Setting up this tent is quite easy. Still, if you encounter any problem, you can read out the instructions provided in the user's manual. The instructions are obvious, and you won't face any issues while pitching the tent. Before you start pitching the tent, make sure that no debris is left on the ground. The ground should be flat and even. Avoid uneven terrain.
Can a single person install a Canvas Tent?
Yes, a single person can install a Canvas camping tent very easily. One of the best things about almost all Canvas Camping Tents is that they are easy to set up and remove. You can easily assemble the tent on your own. However, you may require some assistance while setting up big tents for 10 or 12 people, but you can install small tents on your own.